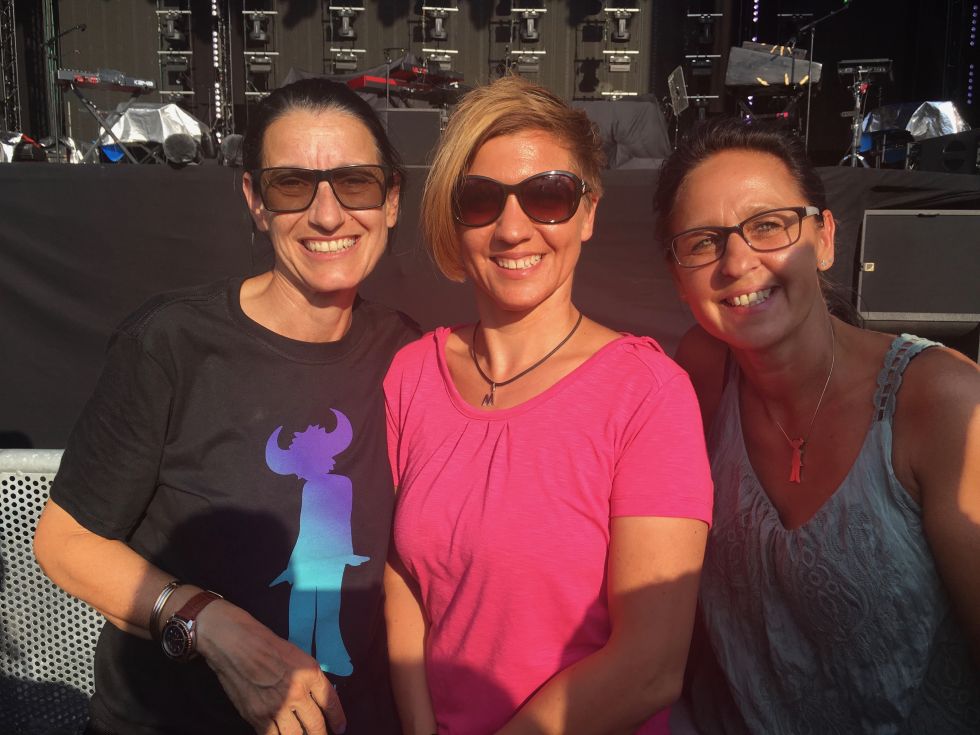 MY REVIEW
Jamiroquai @ JazzOpen Stuttgart, 18 July 2018

Hi Jamily, I am on my way back home from the JazzOpen in Stuttgart. My journey takes 4 hours by train, so enough time to write down a little review. As the Jamiroquai concert has been live-streamed through arte.tv lots of you guys could watch the gig and you still can because recordings were made and shared already! That's why I don't really need to write too much about the concert itself, because you can watch it and get your own impression. But still, I want to write some details down, for myself to remember and for those who are interested in a more personal point of view.
Happy Jamily Reuinon
The whole craziness started during our journey already. My train was a bit late, so I missed the connecting train. I took the chance and got something to eat at the station in Mannheim, where I had to change, then searching for the next connection to Stuttgart. I was texting Nicki who was also on her way by train. While I wrote her that I would be delayed in time a bit and that I am in Mannheim now waiting for the next connection, a train was arriving at my platform. Nicki wrote back: "I am passing Mannheim RIGHT NOW!" I quickly checked: YES! It was just the right train! So I jumped in and met Nicki a bit earlier than planned!! Big hello and hugs!
What she didn't know: our cosmic sister Suzie was secretly getting updates from me, where we are, when we will arrive in Stuttgart, because she has been already there, waiting for us! She had planned this trip long ago, everyone in the Jamily knew it, but not Nicki! It was a long planned surprise and the plan proved to be successful. Nicki didn't have any clue. We left the train, Suzie was prepared and was sneaking after us, giving Nicki a hug from behind! What a surprise! Countless hugs, tears of joy and laughter! Love you crazy girls! This was one of the best moments!! Haven't seen Suzie for 11 years I think! So it was so overdue! Please let's not wait so long again!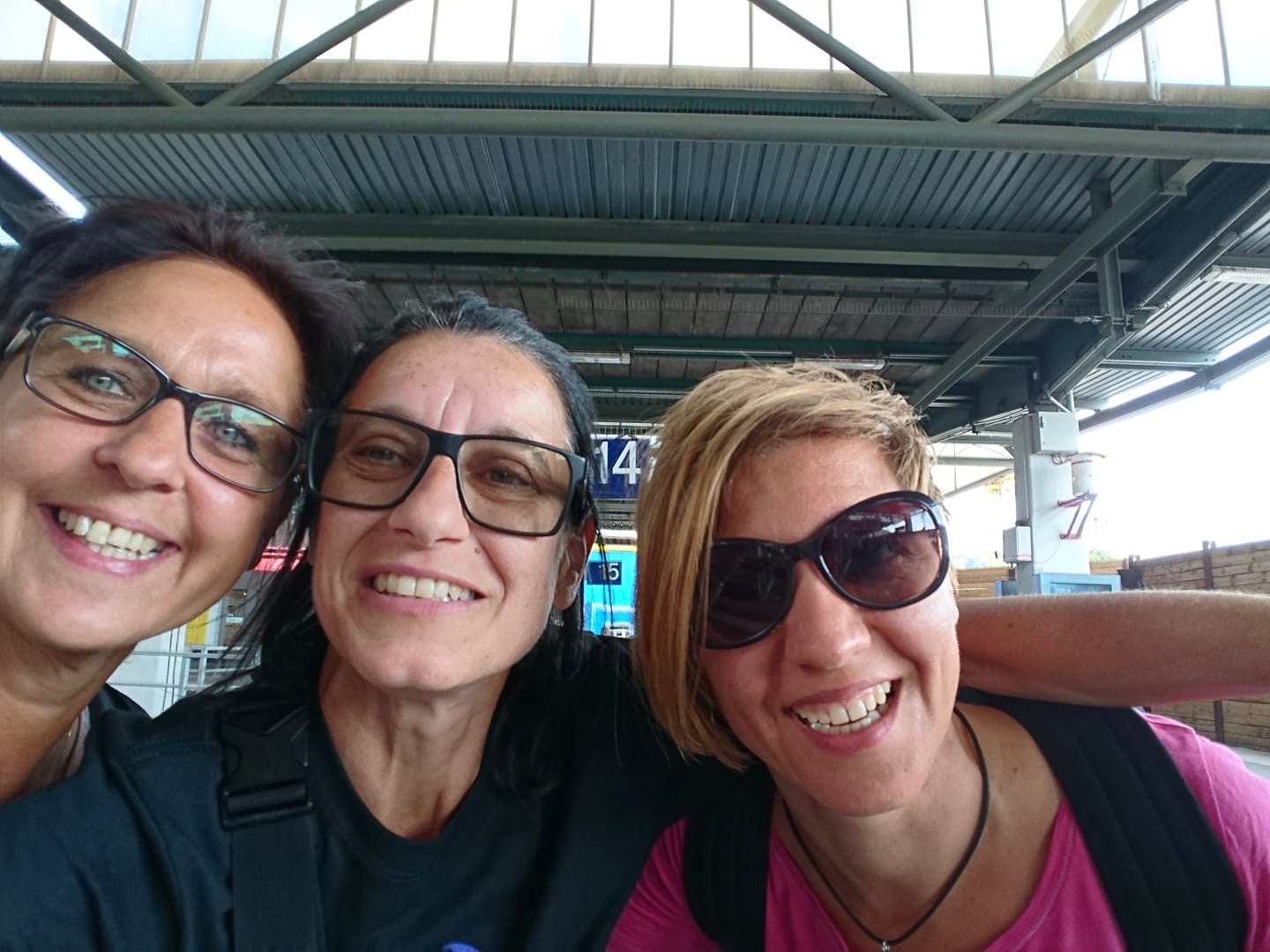 Frontrow challenge
You know this game. Nothing beats the frontrow. So same procedure as every time. Checking the entrance possibilities, checking how many people are already around, checking the way to the stage… you have to be prepared. I have to say, it was quite easy this time, but then again, you never know before. We started queuing at about 4pm. Nobody started earlier because it was a really hot and sunny day, no shadows at the entrances, so the longer you could stay in the shadow of the trees around the Schlossgarten, the better.
When the run started, we girls were running and had free choices when we arrived at the stage. So it was center this time. Perfect place, on my left Suzie, on my right Nicki! The moment of relief, everything settled, this was going to be a great evening!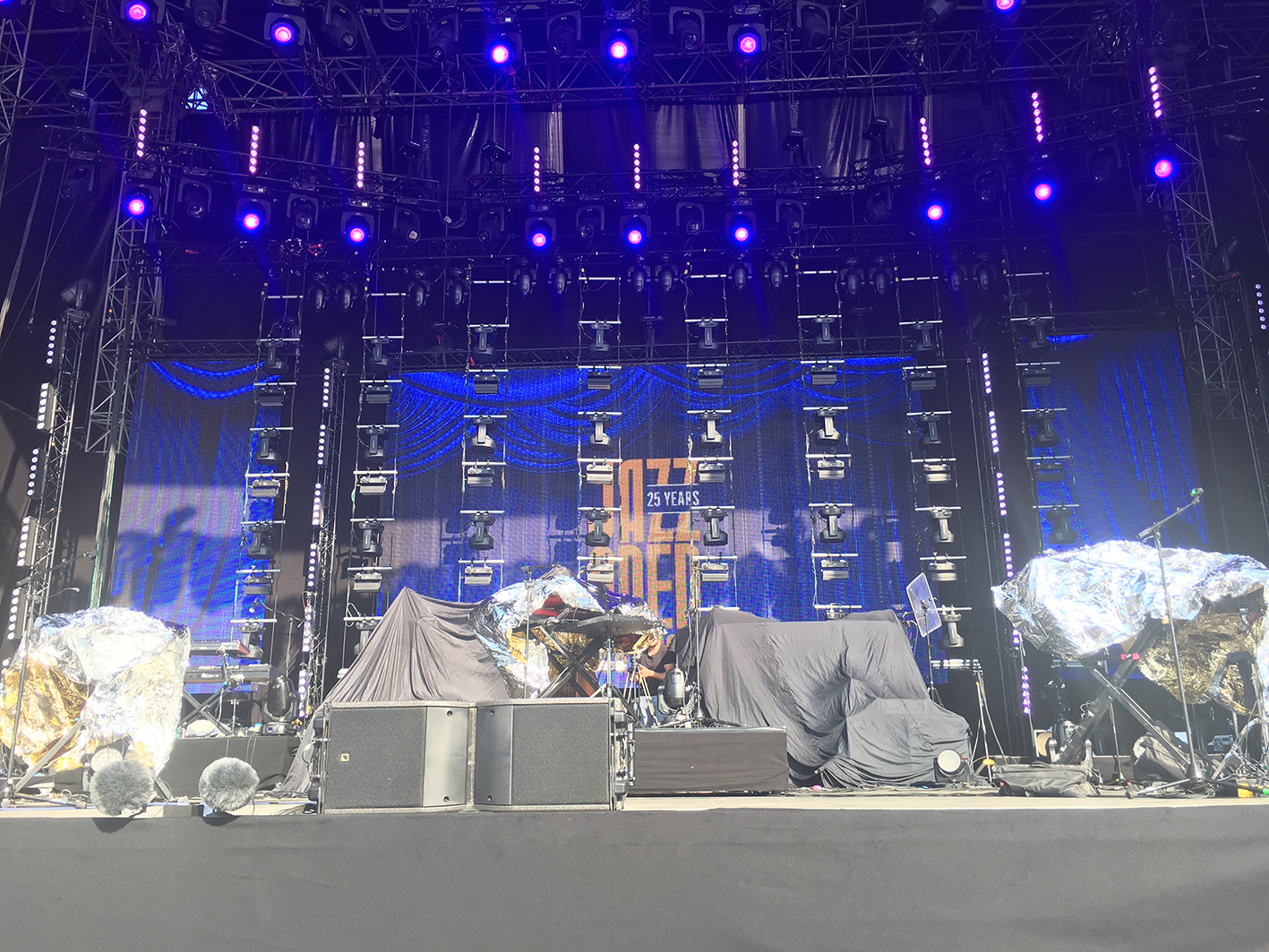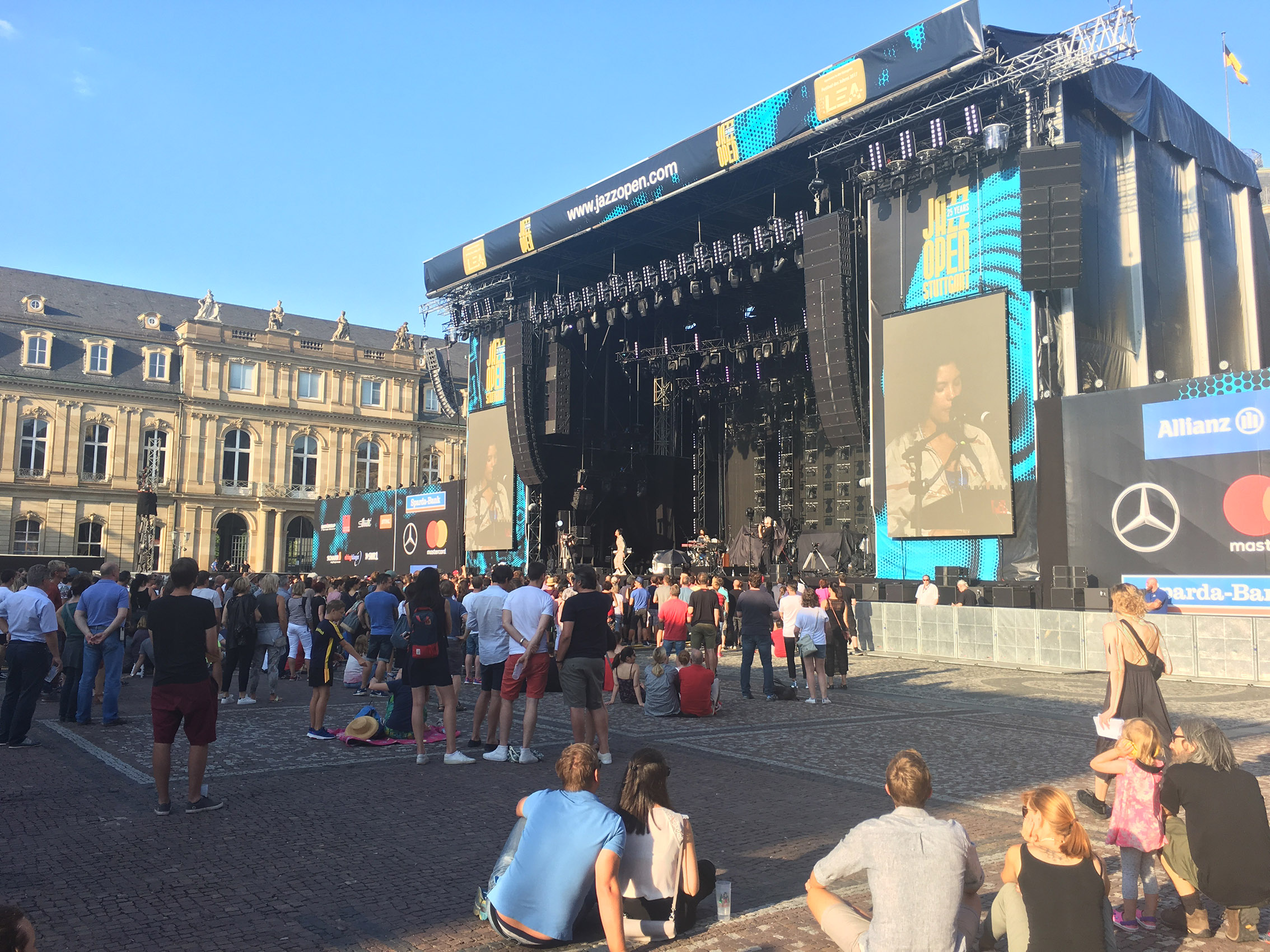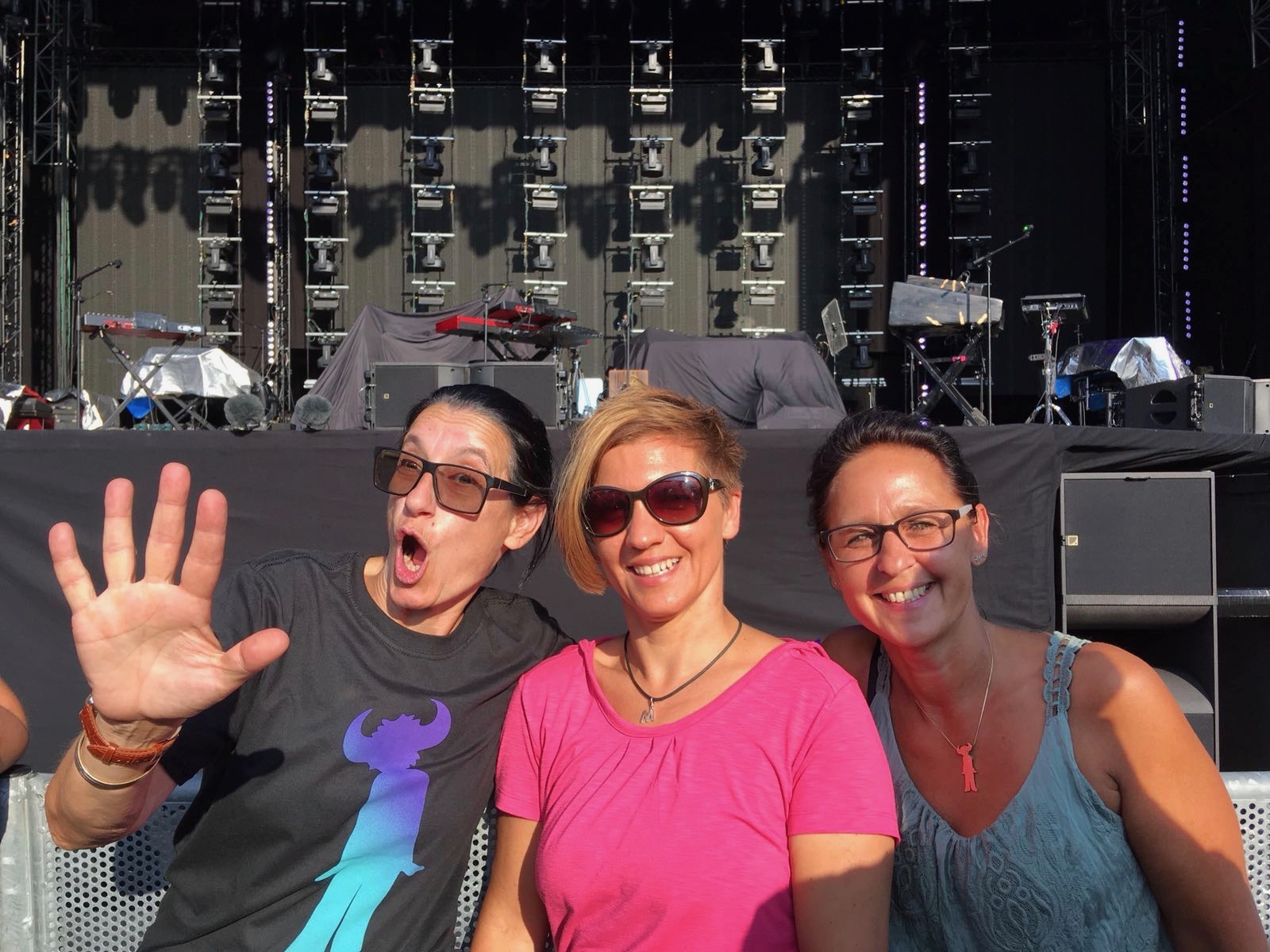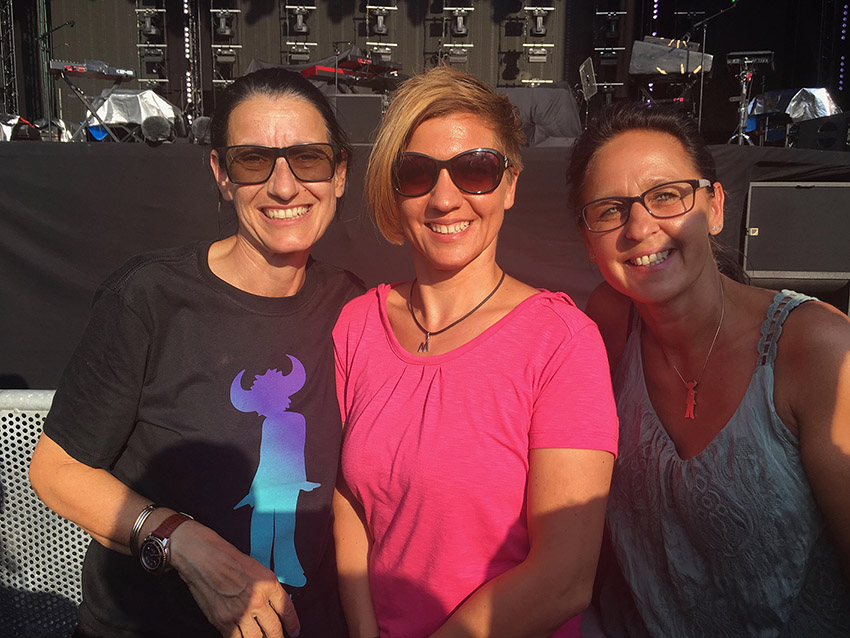 Support act Ibeyi

Twin sisters, just the two. Pretty girls, so powerful and cool! With amazing voices, groovy rhythm and so funny! They were a great warming-up. We all enjoyed them! They animated the audience for some songs to sing along some phrases. One song was like this: Ibeyi: "Come to your river, and..." Audience answer: "….wash my soul" We found it funny to change the lyrics a bit for our own amusement and I am still having this ear worm: "Come to your river and WASH MY SOCKS"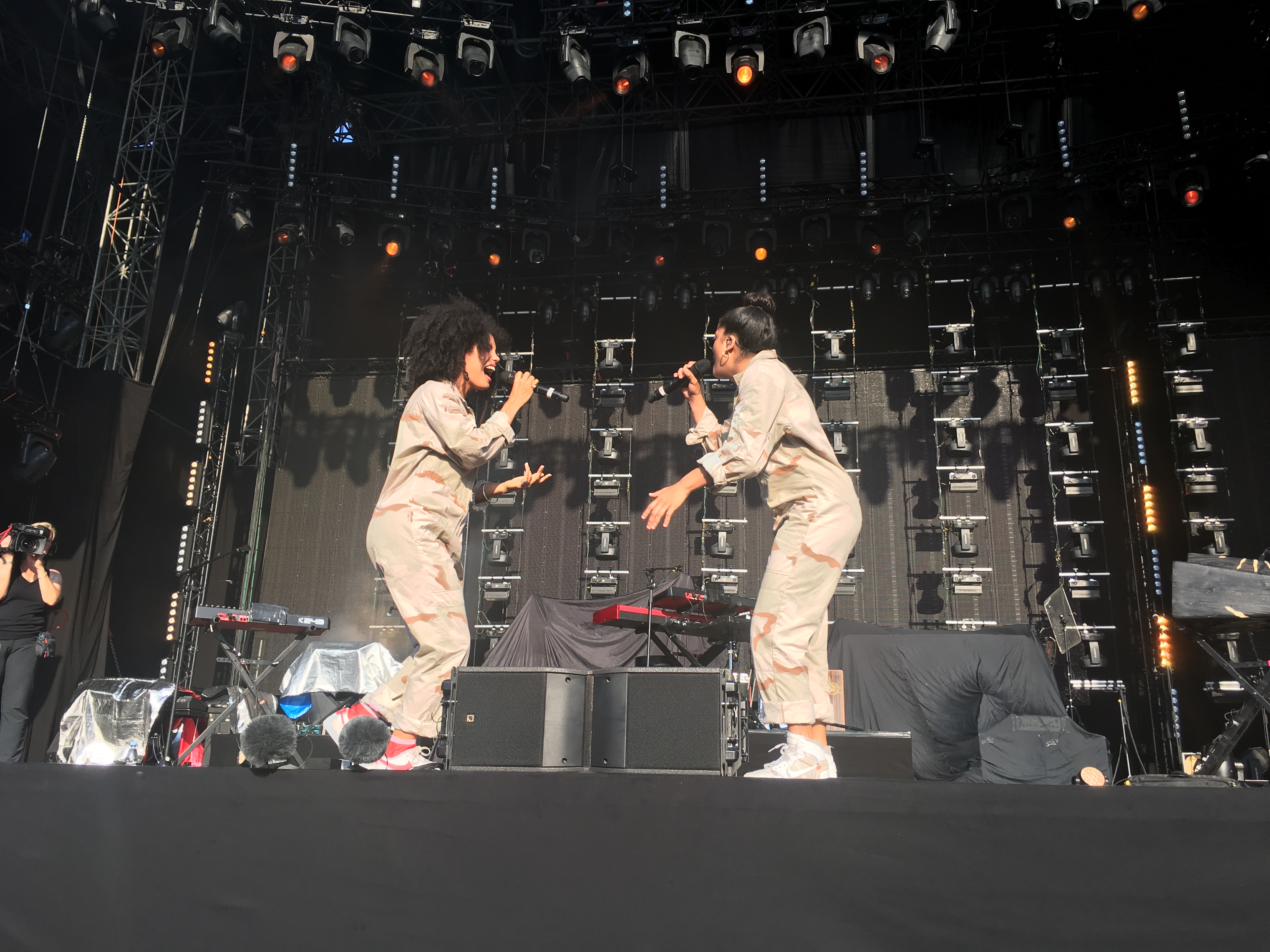 Jamiroquai on stage
You know the gig already, don't you? So no need to tell you, this was an outstanding concert. It started as expected with
Street Fighter
as intro. As I have been listening this on loop for a while the day before, from the Montreux recording, I really enjoyed this one, singing along
"aiaiaiaiay ... aiaiai yah, aiaiaiaiya ….. aiaiai yah … street fighter"

When
Shake It On
started I was flashed by the great and brilliant sound! No earplugs needed, very good balanced and just perfect for my ears! From the first moment til the last tune we girls were having a blast. Dancing, singing, jumping as if we were teenagers! Powergirls!! First time that I was not busy, writing down the setlist, as I knew about the stream. I just enjoyed every moment! Just took a few pics, and we were pushing the jamily balloons which I had spread in the audience before. They were circulating for a while in the audience but landed all in front of the barrier after a while …. I managed to get a few on stage, but was worried that Jay might slip on them, so I stopped after he kicked one of them off the stage! Still haven't seen the stream, so don't know if you saw that moment.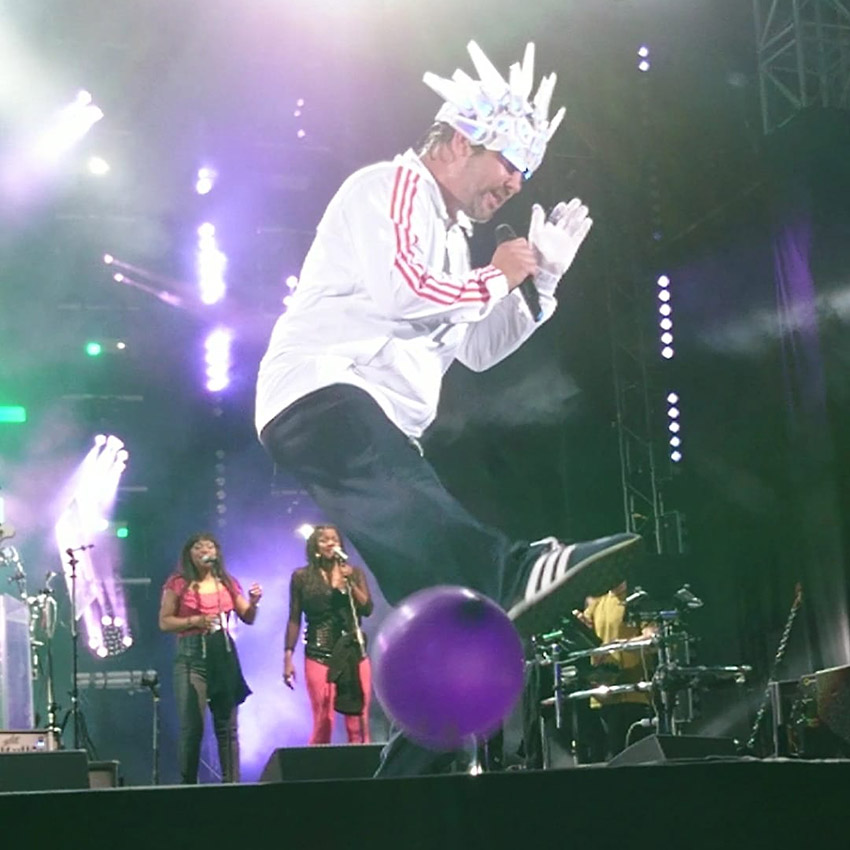 The gig

Street fighter Intro
01. Shake it On
02. Little L
03. Use the Force
04. Alright
05. Light Years
06. All Good in the Hood
07. Space Cowboy
08. Something About You
09: Runaway
10: Smile
11: Cosmic Girl
12: Travelling without Moving
13: Canned Heat
14: Love Foolosophy
The setlist was no big surprise. We didn't get
Planet Home
which I was really hoping for. Despite this, everything was perfect.
Use The Force
was such an awesome version, so great! I also really liked
Light Years
and
All Good In The Hood
. Glad they did
Virtual Insanity
as encore, so we got around
Deeper Underground
.
Jay had quite a lot papers on the ground with lots of text – lyrics, lyrics, lyrics…. but he takes it easy. He was even making fun of it, when he made a "mental check" of the lyrics of
Something About You
. So funny!
Smile
was beautiful live, very nice. But I am not so sure if a quite unknown song which is so relaxing is a good choice for a festival audience. But anyways… it gave us all a bit time to relax.
Best song of the gig for me personally was
Traveling Without Moving
. A killer version!! I was enjoying it so much, closing my eyes and was just in the flow for the whole song. Jay's voice was better than in Montreux I think. He seemed to be more satisfied and had lots of energy to dance and jump. Although he kept moaning about some not working ventilators and monitors…. I like the fact that Jay is recently introducing the band at the concerts. That should be obligatory in my eyes. They got more possibilities for solos as well. That's always great. The song versions were great, extended and it nice to always detect some new little details. What am I talking… go and listen to the live stream recording!! You will understand!

Meeting the band

After the show Suzie, Nicki, Kerstin, Stefan and me got into the backstage area. We had so much fun, taking pics of the stagetruck, the meanwhile famous buffalo man statue and the nice stagetruck driver! Yes, important man!! He deserves some attention as well!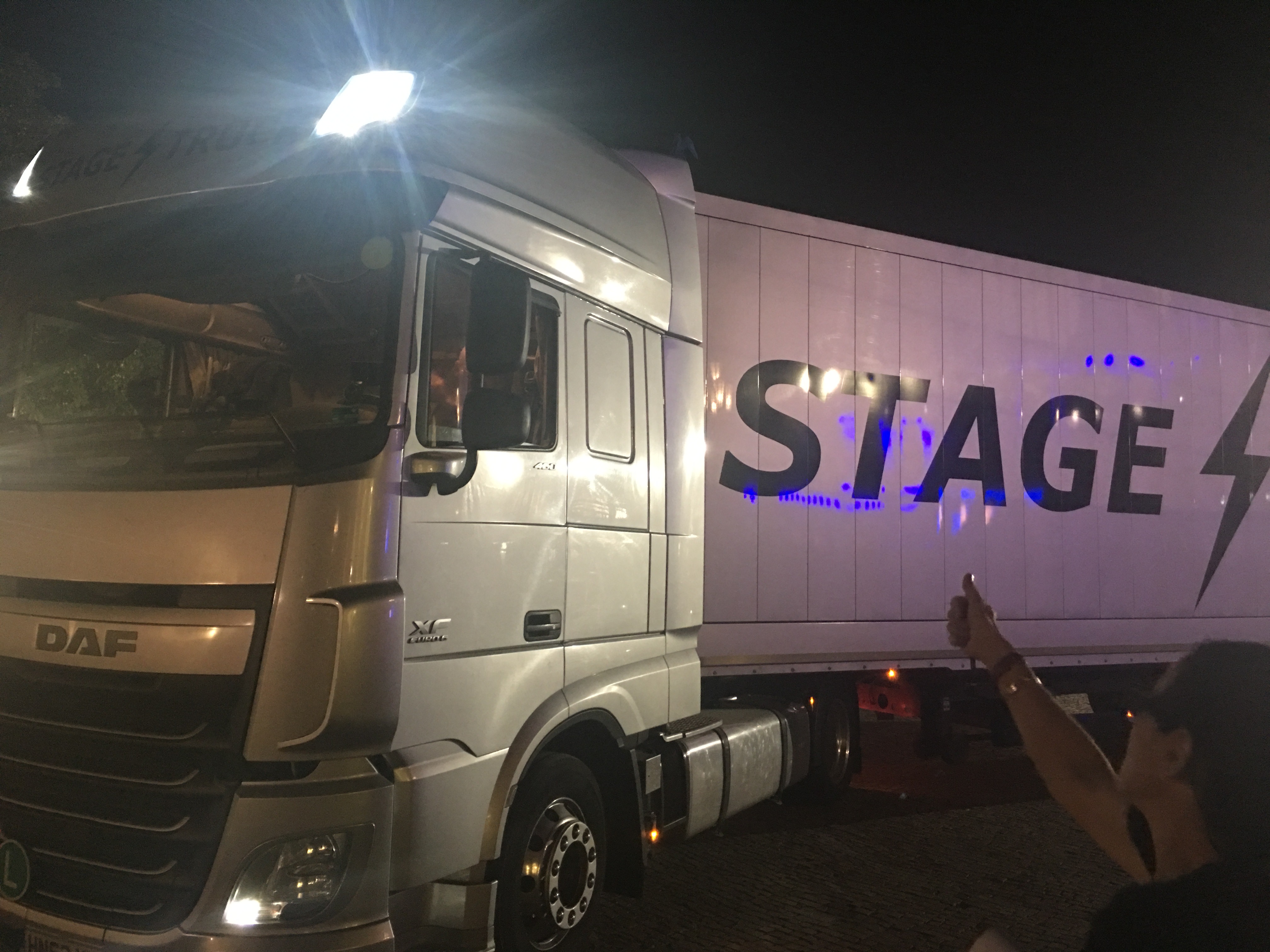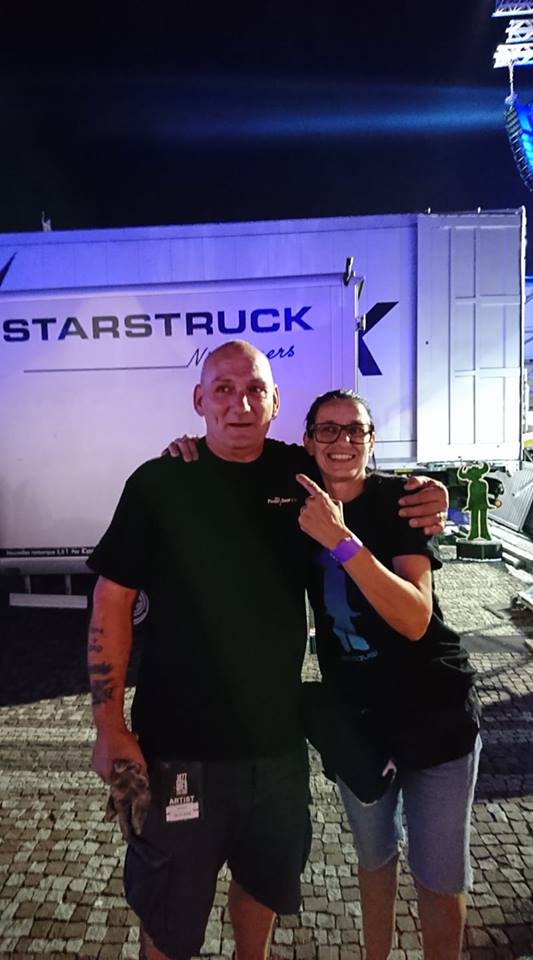 Got the chance to speak to most of them, took some pics, spoke to Matt, Nate and Howard. From Howard we will soon hear some infos. It's about time we got to know him better. The interview is on the way so stay tuned! When talking to Matt, I told him that everyone is excited about the little info about
Street Fighter
and reminded him, that we are all in fact still waiting for another unreleased track, as Jay had promised at the beginning of the year to give us a "couple of songs". Hope this helps… although Matt doesn't think that there is anything planned. Fingers crossed… and maybe keep reminding them when you got the chance to speak to one of them!
They are all in a good mood, but I felt that they are really looking forward to a break. Which they truly deserve after such a long tour!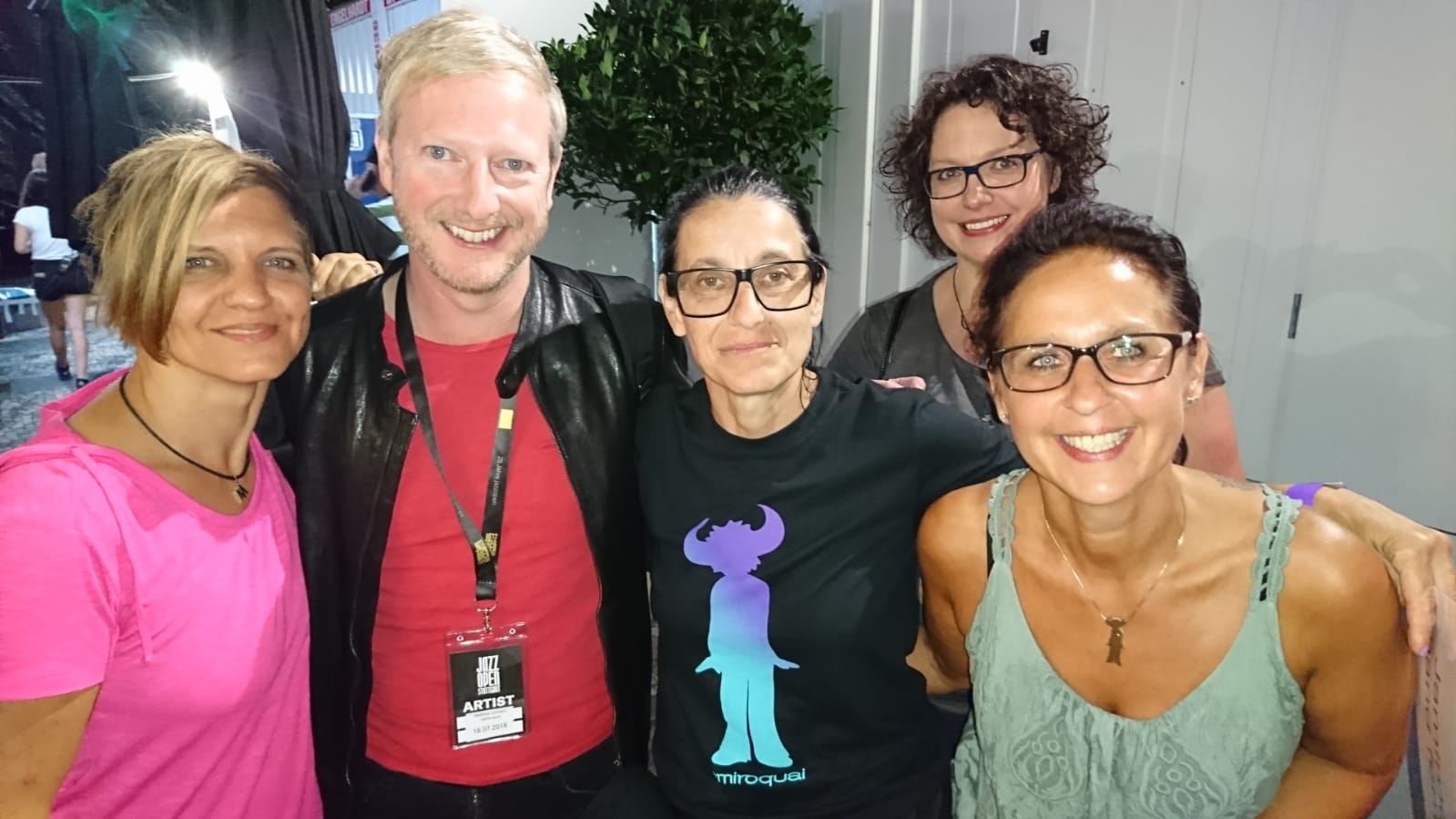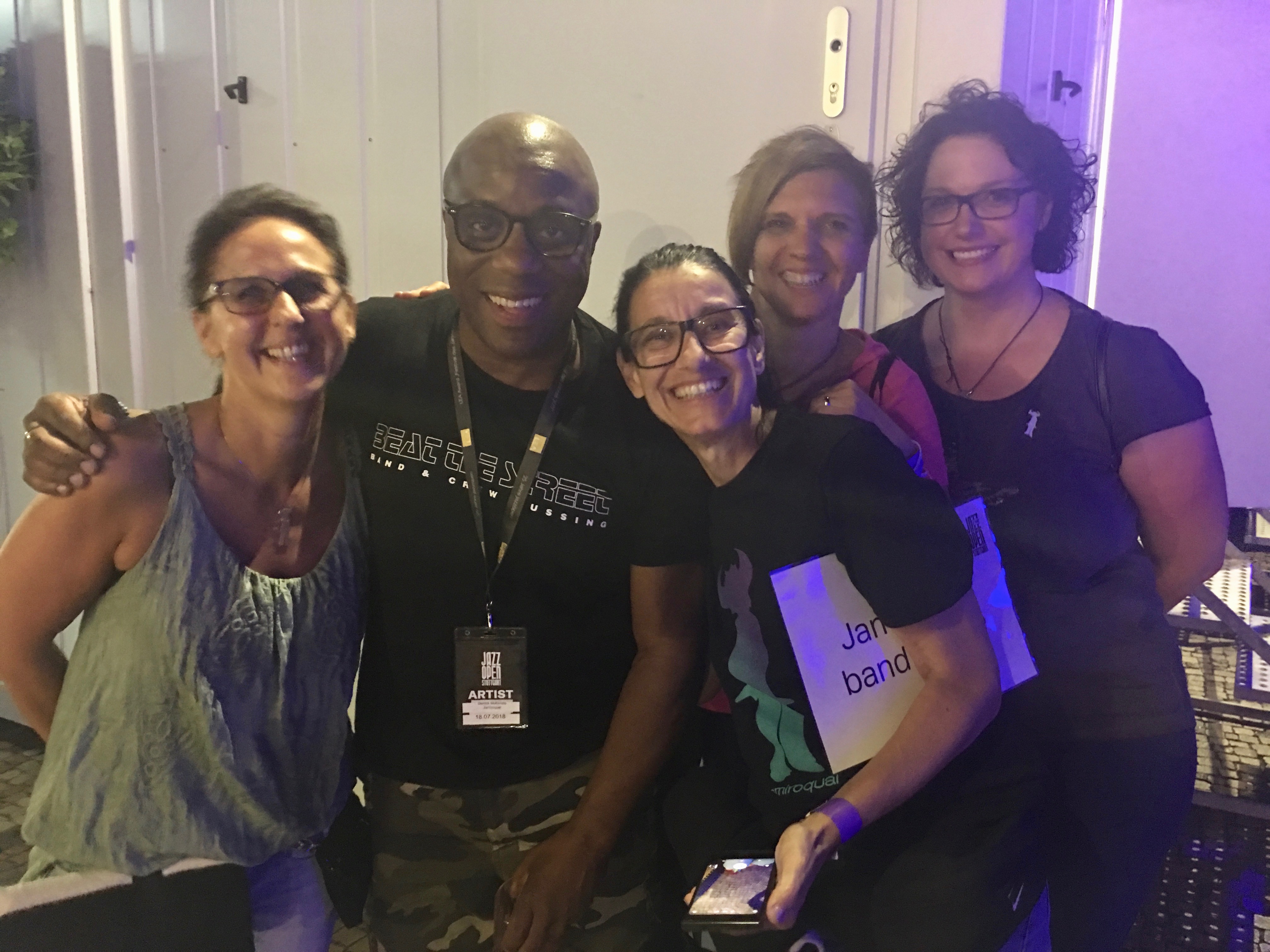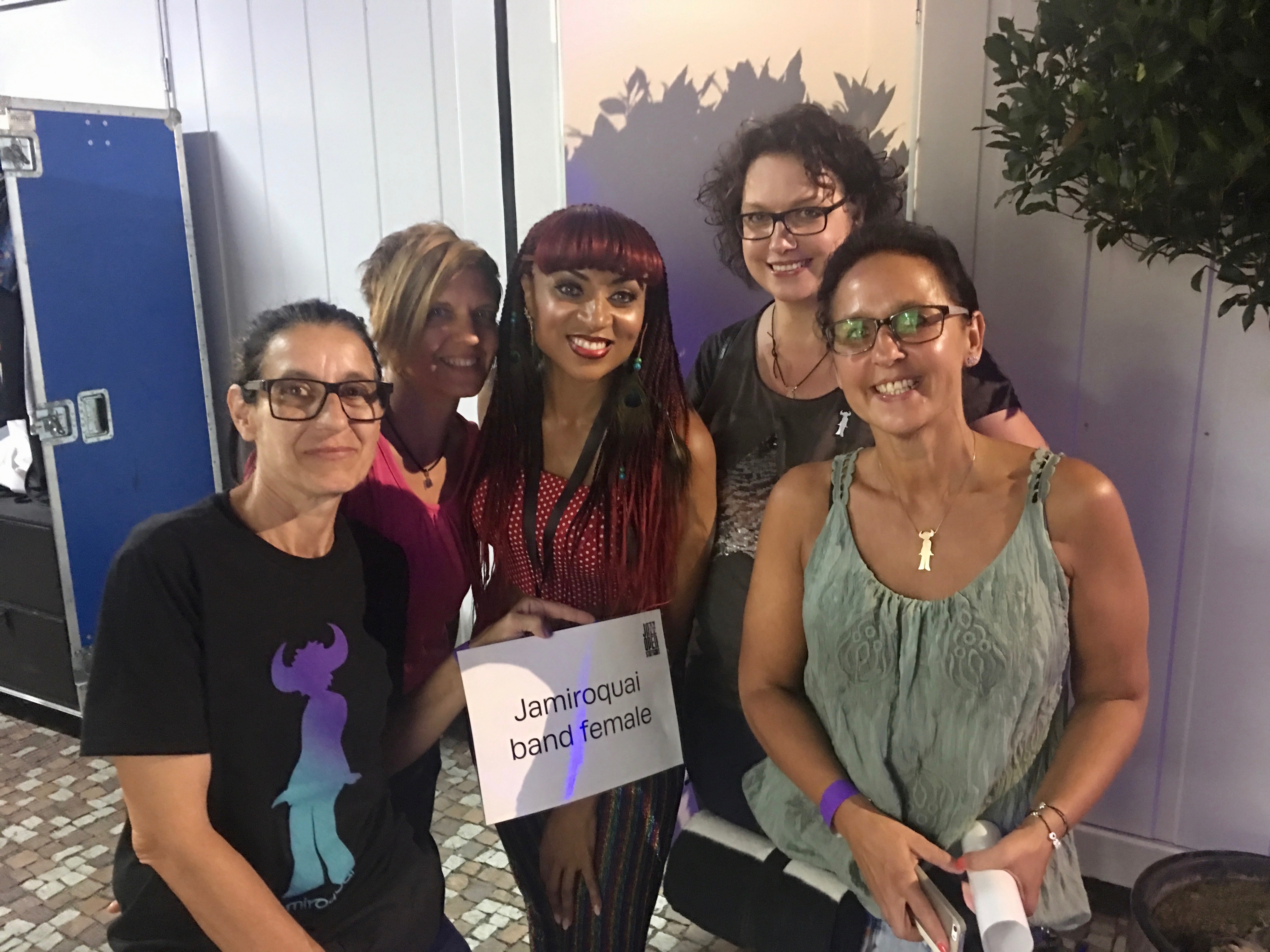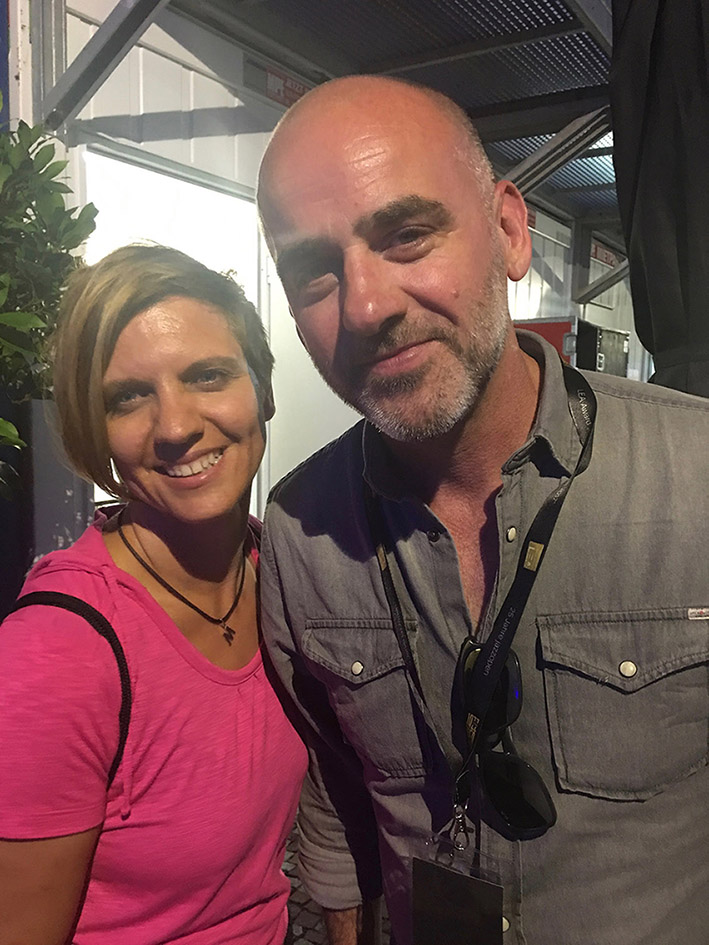 This was my last gig of this tour. So I am so thankful that it was such a special one, also the whole experience was unforgettable, lovely people around me, nice place, brilliant sound, great setlist, band on fire, Jay dedicated, appreciative audience, lovely weather… and I can watch the gig again on the stream! Perfect!

Special thanks go to:
- my family who don't moan about me doing this again and again, instead support me and are happy for me, when I have a good time!
- Suzie and Nicki - love you girls, you are cosmic and it would have been just half as good without you!! "Go to the river and wash my socks!!"
- Jamiroquai bandmembers and team… thanks for always giving your best, for being so welcoming and nice! We had a wonderful time!
- Stefan, for taking all the pics with the band! (He is obviously on none of the pics.)
The next day - Joss Stone and Jamie Cullum
To have this review complete, I will add a few comments about the next day.
As I really do love
Jamie Cullum
concerts, it was a great opportunity to stay one more day and see another great gig at the JazzOpen. Supporting act was
Sarah And The Gang
and then
Joss Stone
! So lovely, amazing voice and great music. Enjoyed it a lot.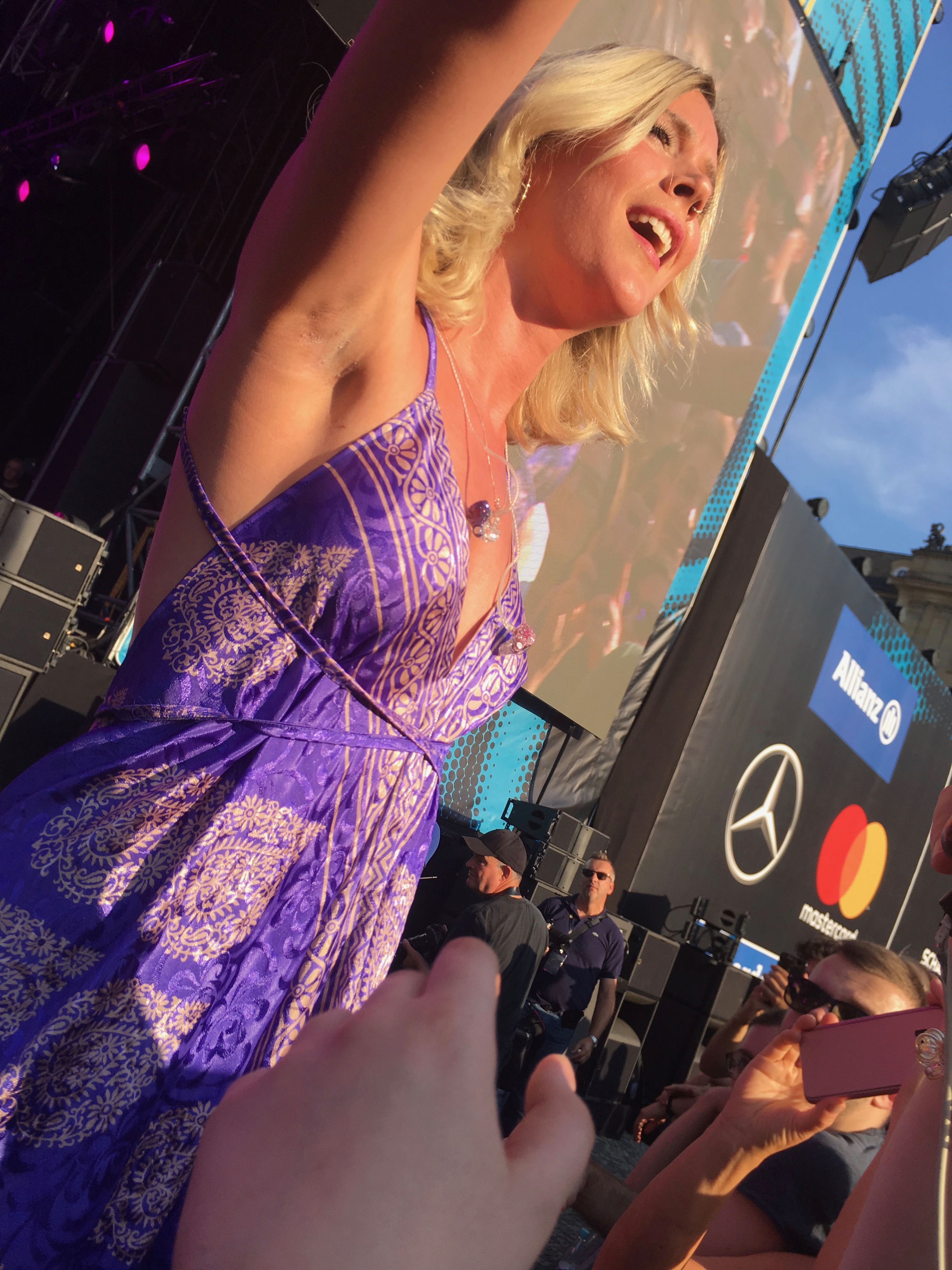 Jamie has been coming for the 5th time in a row, every year to the Jazzopen in Stuttgart. He has a special relationship with the Stuttgart people. I was speaking to a lot of them, they are all coming again and again. You could feel it. It was a magic atmosphere between audience and Jamie. He was on fire, giving his best! He was doing a song together with Joss Stone! And there was a Gospelchoir on stage. And the brass gave me all I was missing during the Jamiroquai tour. Brass deficiency is cured now!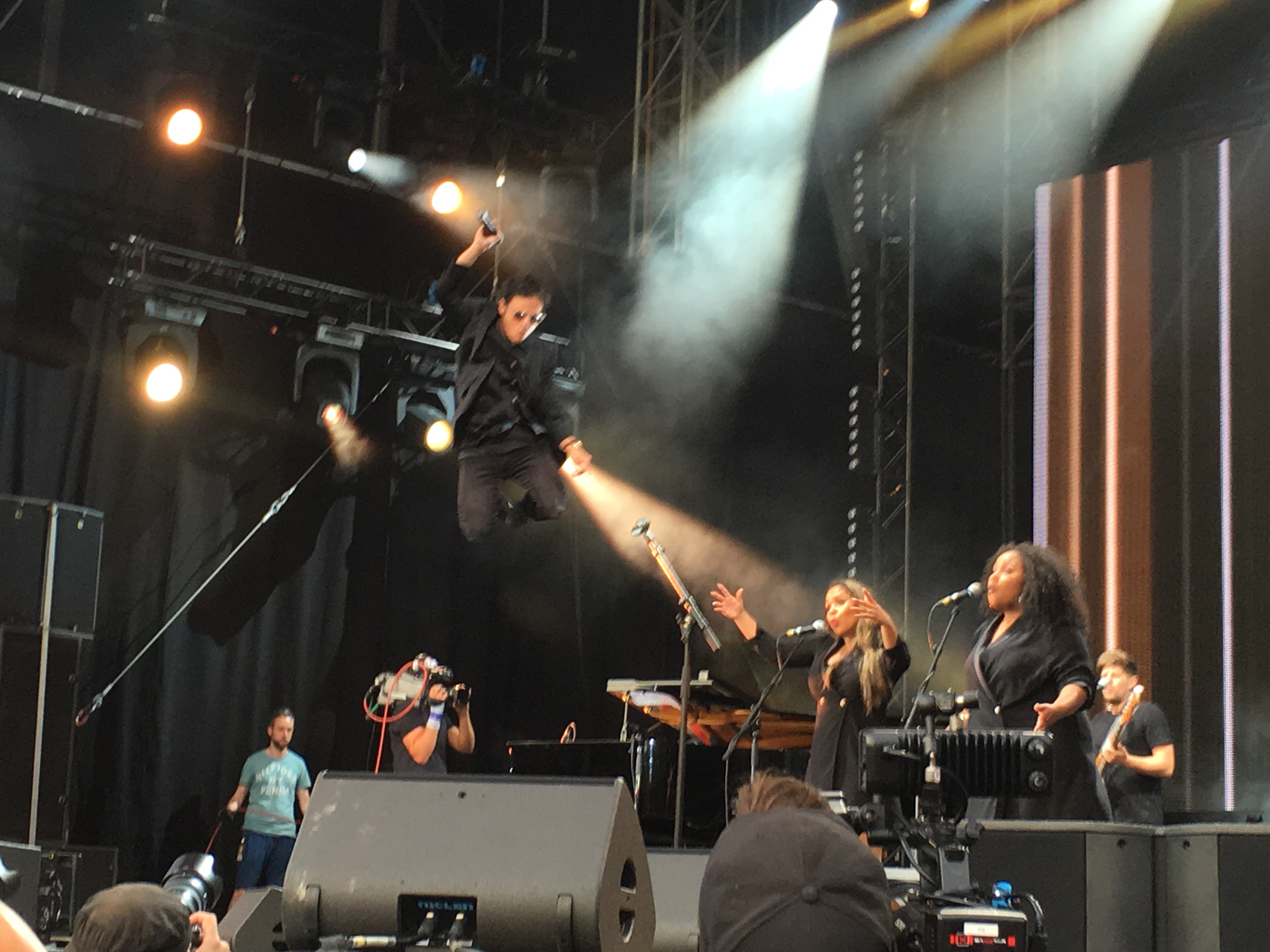 Those days were really exhausting… hot weather, sun, no shadows, long standing, dancing like mad… I think I have lost 2-3kg, I am tired as hell, little headache… but my heart is full of lovely memories, my soul is fully charged with music and good vibes… I am so happy! What music can do… unbelievable!





P.S.: This lovely artwork I got from my daughter Marja Leena (8years) as a welcome back gift when I arrived back home!