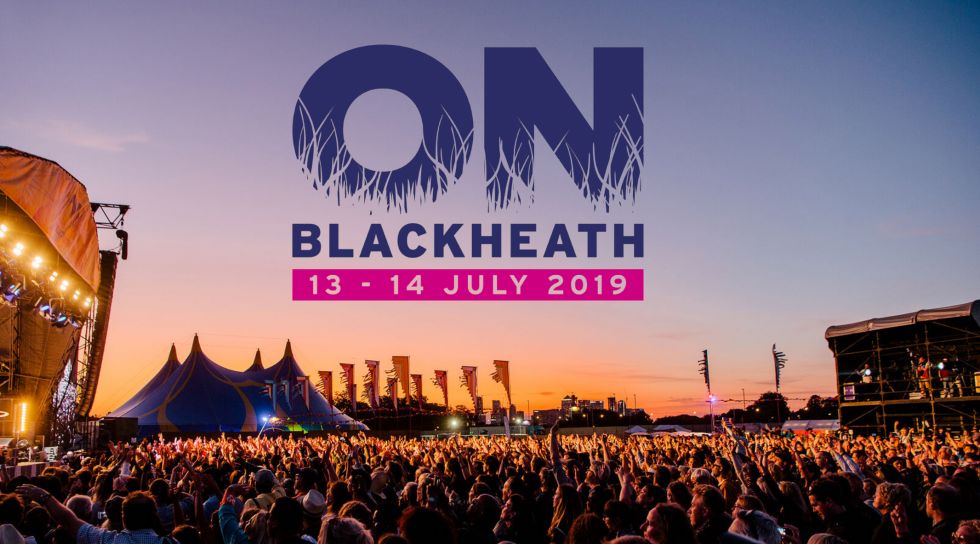 Weekend in London – OnBlackheath Festival 13.-14. July 2019 – my review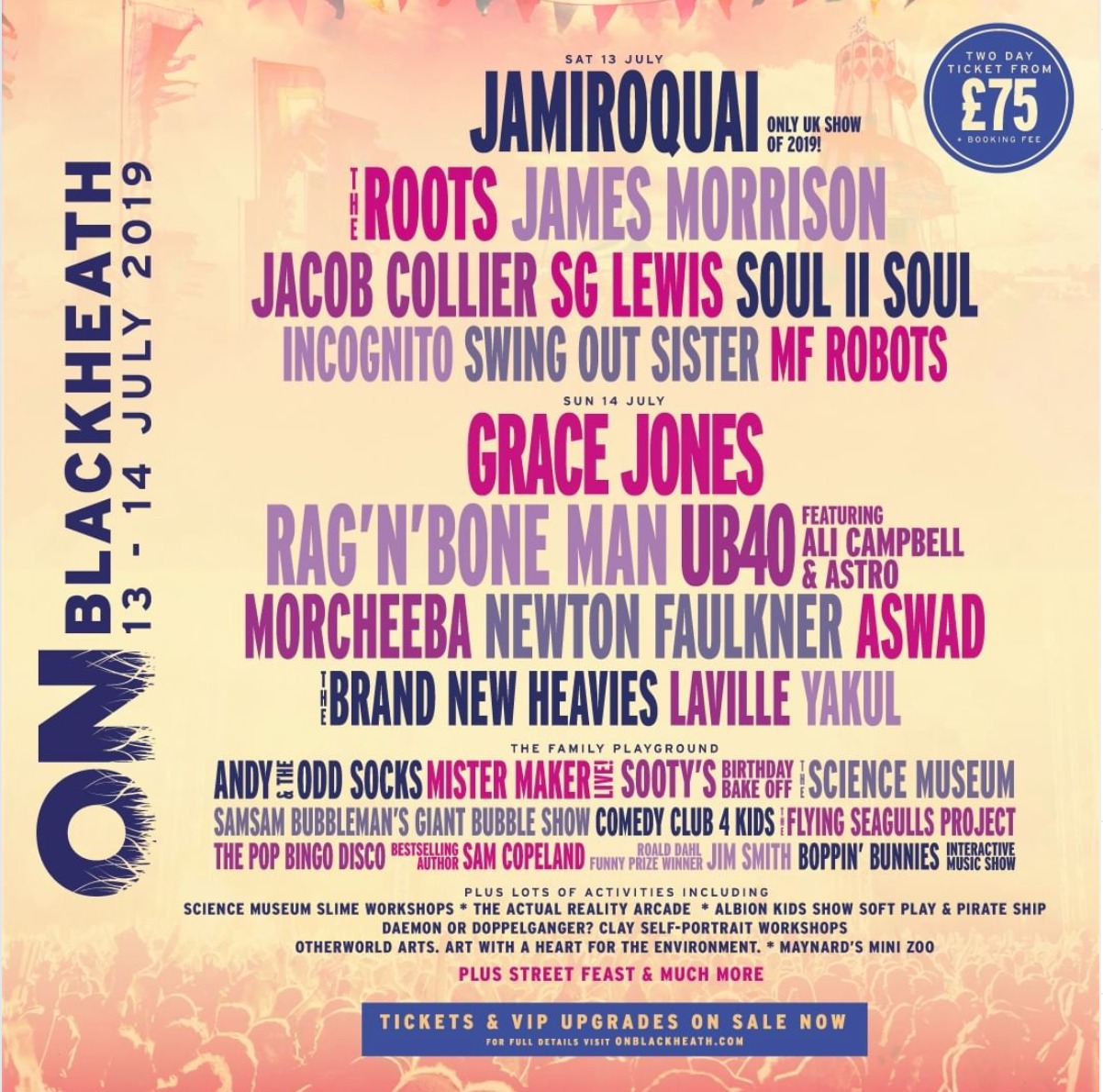 Friday, the day of arrival was long and exhausting. By train to Hamburg, then a long wait at the airport, the delayed flight to London, and again subways and train to Deptford, where we (my good friend Stephan and me) have rented a nice apartment through Air'n'b. Travel time 11 hours. When I finally arrived, I had a little chat with Stephan, who was already waiting for me there. And then off to bed. Tomorrow would demand a lot of energy from us.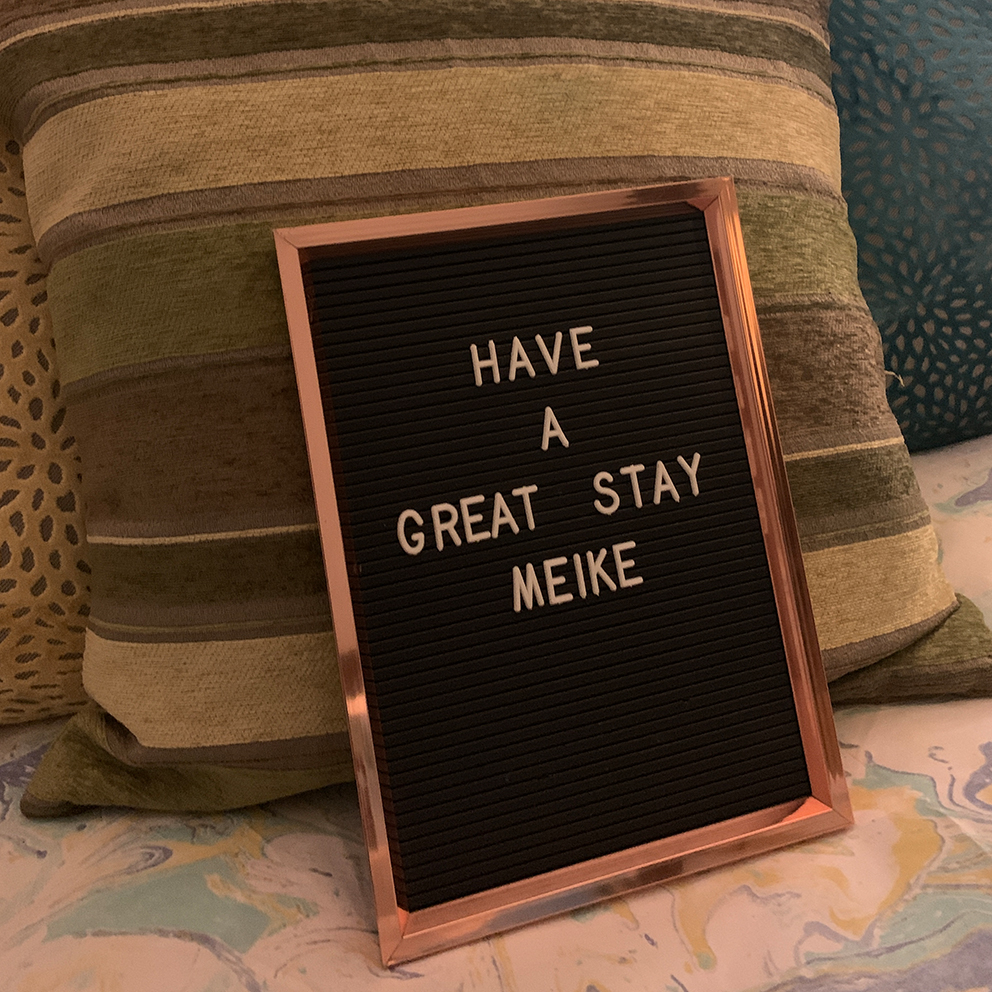 Saturday - Jamiroquai-Day!
My mate Stephan, who has no experience with Jamily habits so far, inevitably had to join the drill and had to go to the festival grounds with me right after breakfast. In fact, we were the first when we arrived at 10.30 am. It was not long before Janluka joined us. The head of the security team made jokes about Janluka, while she prepared her team for the pocket control. She explained them: "Watch out for crazy fans who are impatient and want to get going quickly, just like "Orangeman" and pointed to Janluka (in orange Adidas jacket.) He will be like this: "I want to be the first, I want to be the first", she predicted with a wink... sooo funny! In the end, of course, she was completely right. Janluka and I were the first to reach the frontrow of the main stage. More Jamily members followed. It was never easier to reach the first row. Totally easy. However, it was only 12 o'clock and it was still almost 9 hours to defend this place.
Luckily Jamily meetings and some nice bands have sweetened the long waiting time. I made the decision to keep my excellent place and not to move to the second stage. That was not an easy decision, because that way I missed MF Robots, Incognito and Soul II Soul. Too bad, but in the end it was for me the right decision, because I would have lost my frontrow place for Jamiroquai for sure. In the beginning of the day I was not so sure, if I would do it that way, but as soon as I was standing there, I knew, there was no other option. Everything else would have been unacceptable. You have to make sacrifices.
Stephan, on the other hand, chose stage two and was able to see all that funk and fun that I have missed. The lucky guy. Later he had to enjoy Jamiroquai from further back. So everyone sets their priorities differently. In the end we were both happy.
The trouble was that I did not eat anything except breakfast. The queues for food and drinks were way too long. I just dared to leave my seat for a short while to go to the toilet. Better not take any risks.

Thus, the following bands remained for the main stage:

SG Lewis
To be honest, I can't really remember… it was ok, but didn't knock my socks of.

Jacob Collier
I noticed that some of you don't like him. Also at the risk that you might lose respect for me, I admit that I think he was really entertaining. Very active, a bit hectic, but funny, thrilled and in fact he seems to be really musically talented. I don't know… during the first two songs he played at least 5 different instruments, and each of them really good… and the songs had crazy rhythm changes and weird harmonies, weird in a positive way. He played with the audience and the people around me liked it. I think he was really interesting and I feel like checking out his music a bit more in the future. So, there you have it!

James Morrison
Compared to Jacob Collier James was more mainstream and… well…. more ordinary and therefore a bit boring. Just my opinion. He has nice songs but for me too straight and simple. Not my cup of tea, but still nice to watch.

The Roots
Cool band, groovy, funky and that guy with the big tuba… wow. But they had sound problems. At least in front of the stage we could not hear the singer's voice. I assume the speakers on the front were not working. You could rarely hear his voice from the monitors on stage, but that was not very loud compared to the other instruments. Too bad. A lot of us made signs and tried to communicate that they should turn up his volume and that we couldn't hear him properly. But they just didn't get it. Just at the end of the gig they fixed it.
Finally, the time of waiting was over and the well-known faces came on stage. This time with a squad of 14 musicians. Is this a record? It was packed on the relatively small stage. In front of the three backing girls the three brass player. Right next to Howard. I was full of expectation. Jamiroquai with horns is just another experience and very rare. I wondered what songs they would play.
Here is the setlist:
Shake it on
Little L
Use The Force
Space Cowboy
Main Vein
You Are My Love
Don't Give Hate A Chance
Runaway
Cosmic Girl
Canned Heat / Scam / Lovefoolosophy
Virtual Insanity
Travelling Without Moving
No huge surprises, but many songs spiced up with the wind instruments. The best happening this evening was "You are me Love". I had a guess this might happen, when Jay said: "We're playing a song that we have not played live for over 20 years. (And considering there were some hints on social media). It was terrific. I knew you would love it, so I recorded the performance completely for the Jamily. The horns were also excellent in the other songs. They bring so much more depth into the songs and I no longer had to sing the brass parts myself, as I usually do.
I really hope that Jay will get the horns back for the next tour. It really enriches the show so much. And I know that I am not the only one who thinks that.
I was so excited about the three brass players that I filmed them a lot, and only these. Jay must have thought: "What the hell is she doing? She is always filming the right stage side although I am on the left!!"
Anyway ... so you have the pleasure to listen to some brass pieces. I hope you enjoy!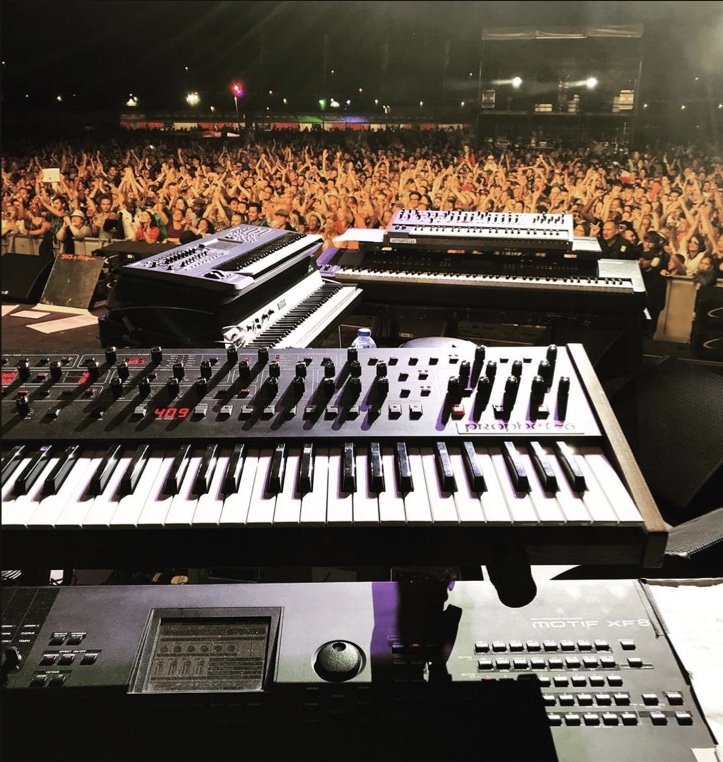 The concert was great, Jay in a good mood, the band always smiling and having fun and they also seemed to be happy about the musical enrichment. The sunset put the right ambience for the climax at the end, the Canned Heat / Scam / Lovefool sequence. Virtual Insanity seemed to be the encore (YES, no Deeper Underground, thank you!) The audience very grateful, I expected everything to be over because of the time schedule... the band put the instruments aside waving and ready to leave the stage, but then Jay ordered the musicians back and spontaneously decided to play yet another song: Traveling Without Moving. What a great ending. I waited for the horns and they seemed to be waiting for the mission,always looking to Jay and waiting for a sign... but it did not happen .. I'm not sure why ... maybe Jay forgot it. Or he shortened the song, because the time was already over. So I had to sing that brass part myself again. Never mind.
All in all, a worthy end and I would like to take this opportunity to thank all who made this day so great. It was very nice to see many familiar faces again, unfortunately I missed a few, due to the two stages situation. We will certainly make up for that next time.
Thanks Stephan, thank you Jamily (I won't list all names because I am sure I would forget some, but you know who you are!!), thanks Jamiroquai, thanks OnBlackHeath. That was a great day. When I fell into bed, everything hurt and I was exhausted, but my heart was still leaping with happiness.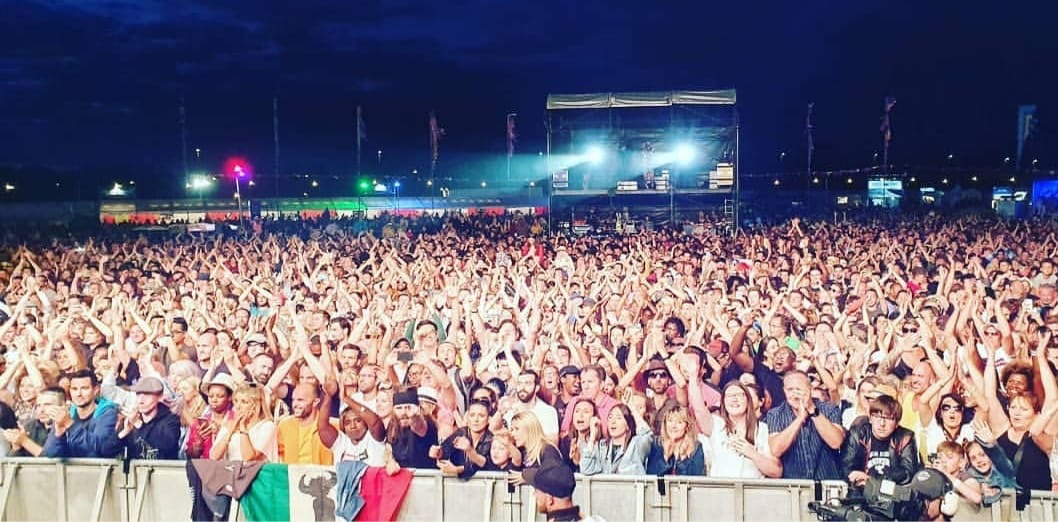 Sunday. Second day, second luck. Stephan and I fortified ourselves with a great vegan breakfast in Deptford in the "Dirty Apron". We had tofu crumble and very good cafe with oat milk. Delicious!
The day was chilling and relaxed. This time we did not have the frontrow stress and looked forward to lots of good music, good food and a great time.
The main attraction for us today were The Brand New Heavies. This was Stephen's day because he loved this band for over 25 years and would finally see them live for the first time ever.
But until then we saw good other bands, for example Newton Faulkner, who impressed us with his amazing one-man show. We also liked Yakul and Laville very much. Very talented musicians. Morcheeba and UB40 were ok but did not blow us away. We made some disrespectful jokes about UB40's songs, always sounding the same and like "Red Red Wine". Aswad, another reggae band on the second stage entertained us more. Although we are both not into reggae that much, we danced and had fun. It was a more rocky reggae and we liked it.
When they were finished, we rushed forward and secured the middle of the first row. Ready for The Brand New Heavies.
Stephan had the time of his life, but I also celebrated the great concert. Best performance of the day! They even brought a large group of children on stage and in the audience were fans from around the world, for example from Texas. That is dedication! And this felt familiar when I think of our community and the international fans meet ups for Jamiroquai in the past decades.
At the end, we joined the crowds in front of the main stage and looked at Grace Jones. Wow, what an appearance. That woman is over 70. And you do not notice it. She kept whirling the hulahoop around her hips for an entire song. Impressive. After each song there was a new outfit and overall the performance was very entertaining. A great ending, again with sunset in the background. Happy and our heads full of music and impressions we went back to our apartment.

Compliments to the organization of OnBlackHeath. They responded very quickly to the visitors' complaints and organized more staff for the next day. The second day went much better. You could buy drinks and food without queuing up. The mood was great. A neat family event with an outstanding line up. I am glad that I was able to experience this great weekend. Full of gratitude.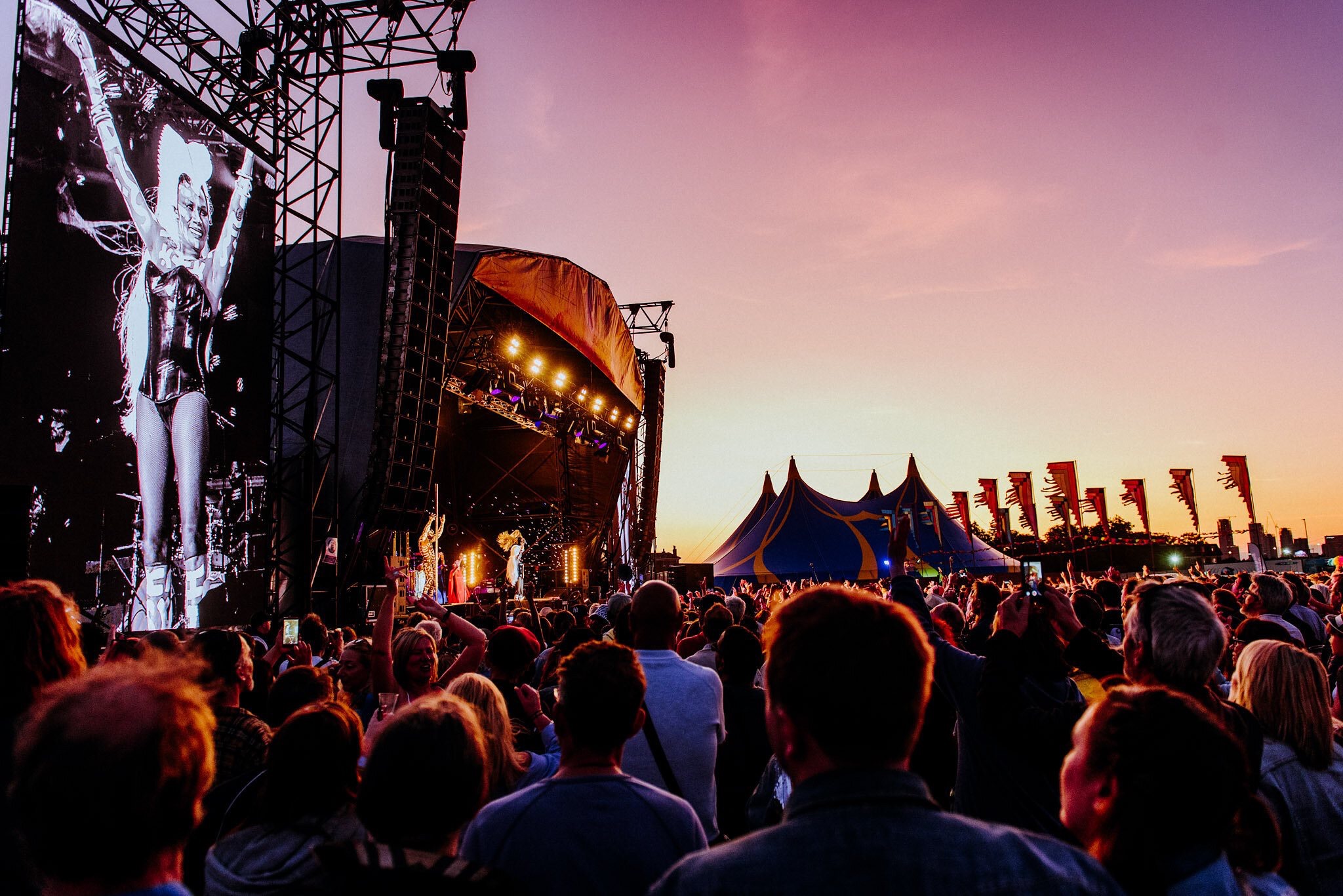 Credits for photographs:
Most of the pics made by Meike Melansek
Frontrow pictures, pics from James Morris, Grace Jones, taken from onblackheath.com
Crowd pictures from the stage: Nate Williams, Matt Johnson
-------------------------------------------------------------------------------------------------------
VIDEOS FROM SATURDAY:
JACOB COLLIER:
JAMES MORRISON:
THE ROOTS:
JAMIROQUAI:
Use The Force (full)
Space Cowboy (clip)
Main Vein (clip)
You Are My Love (full)
Scam (clip)
LoveFoolosophy (clip)
Virtual Insanity (clip)
Travelling Without Moving (clip)
----------------------------------------------------------------------------
SUNDAY VIDEOS:
MORECHEEBA:
LAVILLE:
ASWAD:
THE BRAND NEW HEAVIES:
#v#8#v#
GRACE JONES: