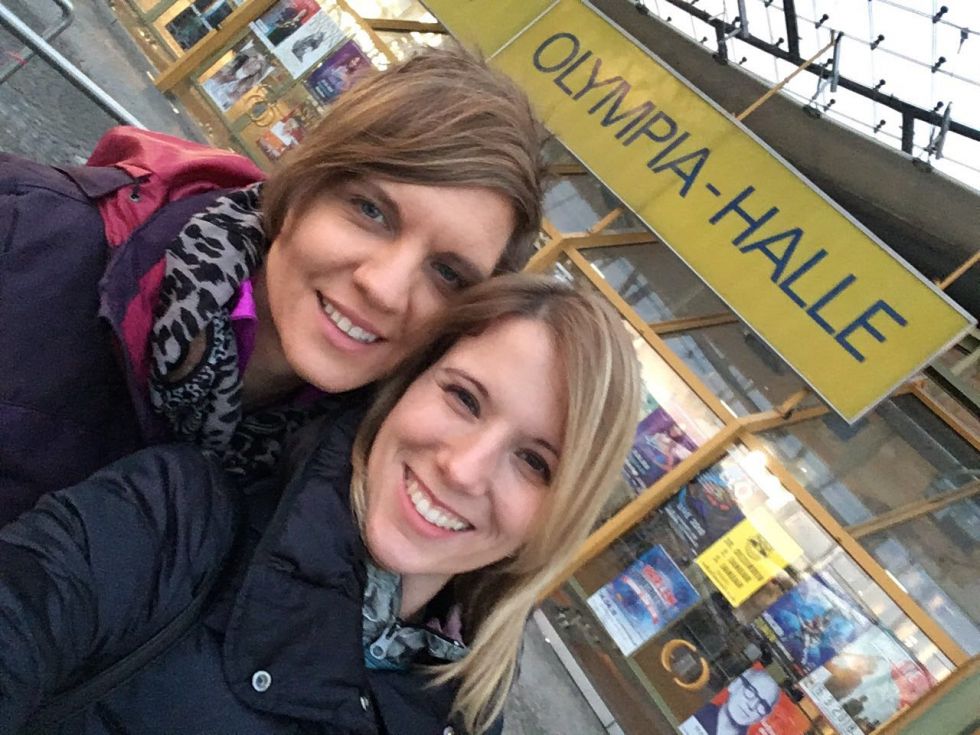 My Review, Jamiroquai 09 Jan 2018 Munich, Olympiahalle
It's been five years ago that I saw Sandra the last time, when me and my family went to Austria and visited her. And our last Jamiroquai gig we enjoyed together was even 10 years ago!!! 10 years! It was the legendary Ahaus gig in 2008! So you can imagine that the most biggest highlight of this night was to meet and hug her again after such a long time!

After super-freshing us up in the hotel, we went to the Olympiahalle and were welcomed by familiar melodies…. It was the soundcheck: Too Young too Die, and we were hearing Jay singing. Yeah, His voice is working. Phew! That was a very important moment, as Sandra was still suffering from a Lost-voice-and-cancelled-gig-trauma. She had some dark déjà-vu-moments when she saw the venue and familiar faces from last time… but the more songs we were listening from the soundcheck the more she recovered and the confidence that we would have a fabulous night was growing again.



Soundcheck:
Too Young to Die
Hot Property
Shake it on
Travelling
Deeper Underground


Pablo from Spain arrived as well during the soundcheck.
It was getting colder and colder, but finally the time had come and the security guys were preparing for the check-in. That was the moment when Sandra and me got out our tickets, to be prepared.
Sandra was shocked because she noticed that we had different dates on our tickets.. but I could calm her down. She still had her old ticket from the canceled gig, and I had bought a new one. So I had the updated date on it. It was logical that the date was different.
Then I was joking around… "Oh let's check if we printed the right ticket. Not that we printed tickets for Berlin or something like that." Actually that was a joke, but still a possibilitly when you are going to different gigs and buy your tickets at the same ticket seller. They all look the same.
Sandra checked her ticket again… where is the word "Munich"?? Where is it? … BERLIN?? Damn, what??? She INDEED had the Berlin ticket with her. WTF!!!!
She must have mixed up the prints in the hotel, where she was packing her stuff for the gig. We remembered that she had two tickets with her. She thought they were both the same, because she printed the Munich ticket two times at home. When she pursed one of the ticket she didn't do a last check unfortunately.
Ok, but we are in 2018… the real ticket was still available in digital form on her ticket-seller account. The question was just, can they scan the ticket code from the mobile phone?
You front-row-runners know the problem: every little delay in the process of check-in can cost you your safe place in the front row! What a thrill.
In the end, it worked… but they had to double check Sandras digital ticket. Meanwhile I started to run, so that I could safe a good space… but I got lost. Sandra warned me before, not to take the stairs too early. She did that mistake last time. So I was running forward but the venue was really confusing… lots of stairs into the hall, not well signposted. If you got the wrong stairs you ended up in the seating area. I got a bit lost… was running too far. So me and Sandra reached the stage at the same time and only got a place at the right side. Damn. At least front row but considering that we were the first ones in the queue very disappointing.
But we were in at least. Could have been much worse with the ticket mess. So we decided to be happy anyways. And you know, as soon as the music starts, everything is alright.
By the way, Pablo had the same problem to find the right stairs to the standing area… he found a place in the front but very left-sided.
DJ Deetron was nice! I liked him way better that PDM. He warmed up the audience and he finally did what I actually expect from a DJ support act for Jamiroquai: he did a Jamiroquai Remix! The Automaton remix. I liked that! That was the moment I got completely in the mood. It reminded me to the Roundhouse gig in March 2017 where they used this remix for entering the show.
I am not that into remixes to be honest, but when it is tied to an experience or memory than it works for me.
Then the gig started! I noticed that the venue was not completely full. There were lots of free seats. But still, the audience was great. Most of them came a second time, after that disaster in November when Jay lost his voice. So the expectations were high and Jay and the band were welcomed with loud applause. Jay wearing a colorful poncho was a nice surprise. But this one didn't last long… it was too hot. He put it off after a few songs.
It took a while until we noticed that Sola was missing. Instead there was another guy behind Solas set and did a pretty good job. Later we heard from Derrick that Sola was touring with his theatre group and couldn't attend the gig. The guy who replaced him is called Olli (?). He will be playing in Zurich as well.
Here is the setlist. It differs in some points to the printed version. Jay way improvising a lot, changed the order, left away songs, added others… and all in all this was a great set. I saw a few gigs of this tour by now and so there were no big surprises, but I noticed minor changes in arrangements, some different intros or endings. Jay gave the musicians the opportunity to shine in great solos. He even introduced the whole band. Nice!
My favorite song was TWM.
Shake it on
Little L
Automaton
Kids
Space Cowboy
Alright
Cloud9 (alternate)
Superfresh
Cosmic Girl
DGHAC
TWM
SDISJ
Runaway
Virtual Insanity
Revolution/Canned Heat
LF
..........................................
Deeper Underground


When they came back for DU the audience was welcoming them with loads of lights of their mobile phones. This looked beautiful.
Actually, I am not a DU fan, but we were jumping anyways and enjoyed it. I haven't heard it in a while now, so it was great. It was even a slightly different version. Matt did some additional sounds which spiced it up.
Thanks Jamiroquai for another great show. And thank you Jay, that you had lost your voice… as bad this experience had been for you, this gave me the chance for another Jamiroquai journey and the long overdue meeting with my dear friend Sandra. Everything happens for a reason.