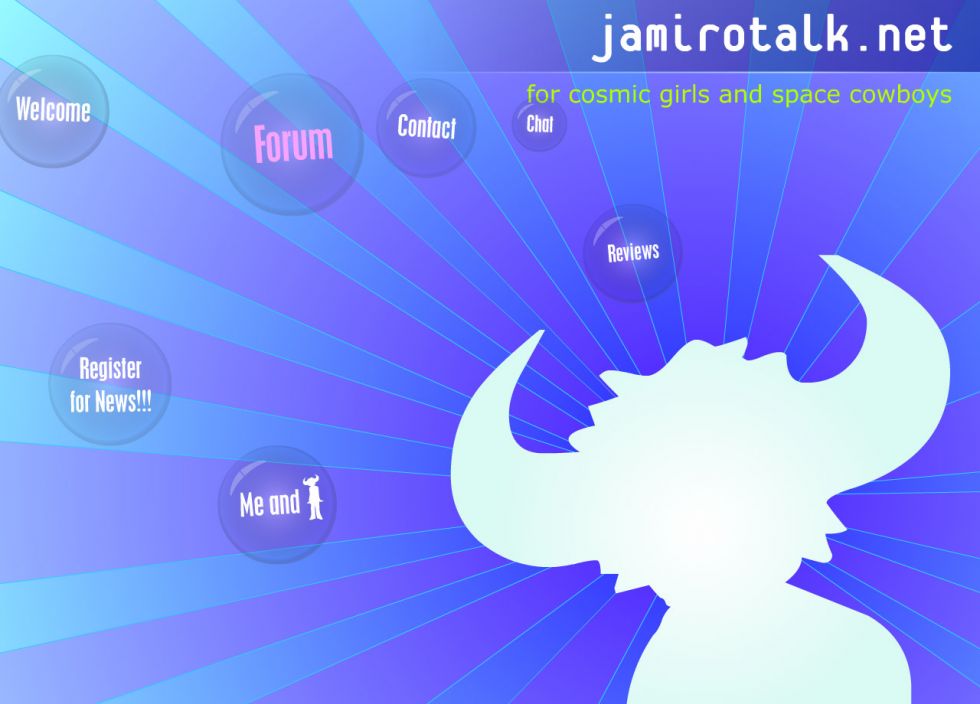 "DO YOU REMEMBER MY BUBBLES?"
Who does remember this one?
This used to be the frontpage of my initial jamirotalk forum. That's how we started 16 years ago: It has been a christmas present from my husband to me. My own fan-forum dedicated to my favorite band Jamiroquai. It started tiny and ingenuously but grew fast and took root. Many years it has offered the Jamily a place to be, to discuss, to share the same passion. We have made friends, have met at countless concerts, jammed the front row with our international flags and filled the forum with our stories, reviews and emotions. We invited the band members and interviewed them.
The forums of jamirotalk have become a big archive of 16 years of Jamily vibes. Expressed in numbers, that is
9.029 topics
,
146.312 posts
… and believe it or not:
8.796.796 words
!
I could read for hours there, re-read all those reviews of concerts, endless discussions, so many memories I wouldn't want to miss.
But it is time to start a new adventure: The Jamily needs
MORE
Talk. Jamirotalk
PLUS
(+) is ready to take off. Like in old jamirotalk-days we provide a common discussion forum. You can talk about everything here and it will stay in an organized structure. But jamirotalk (+) can do even more. It gives you everything that a social network needs.
At the moment, there probably still are some bugs and things that won't run smoothly yet as more users are online. Please report anything that doesn't seem to be right and we will try to fix it step by step. This is just the beginning.. more tools might come as the community is growing and functions will be modified if necessary. That's the good thing… we can create it as we need it. It will grow, expand, evolve and improve, with
YOUR
help!.… so better start making a wish-list and let us know, it might happen sooner or later!
Are you ready?
Feel free to
join us
in order to get the full access to all functions. Create a personalised profile,
introduce yourself
, add photos and content and get ready to party!
Then have a look around, get used to everything. Check the topic
How To Use Jamirotalk (+)
.
We will grow fast and it could easily get messy, so please try to keep it neat and cosy!
If you have any questions, don't hesitate to ask me or one of my team members.
Please don't flood the galleries with unnecessary pictures. Pictures regarding the Jamily and Jamiroquai are welcome, but please take care of copyrights. Don't wanna get into trouble! Thanks.
Also, be aware that uploading massive amounts of pics will cost me some extra money… so share wisely!
Videos (from Youtube for example) will be embedded, so won't cause more traffic, so that's fine.
The
former jamirotalk forums
will stay for reading and research. The comment functions will be enabled after a while, though. It's worth to check old topics there… so much fun and so many good vibes. But don't get lost. Come back and help filling this new place with love, passion and fun as well!
Welcome to this new galaxy! Enjoy and let's
jamirotalk
(+) !
CosmicMouse