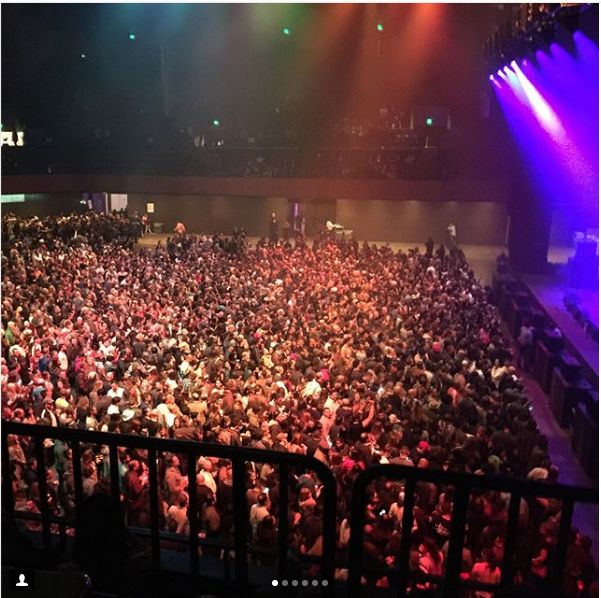 Set List:
1. Shake It On>
2. Little L
3. The Kids
4. Space Cowboy
5. Alright
6. Cloud 9
7. Main Vein
8. Use the Force
9. Hey Floyd
10. Cosmic Girl
11. (Don't) Give Hate A Chance
12. Runaway
13. Travelling Without Moving
14. Seven Days
15. Canned Heat>
16 Love Foolosophy
Encore:
17. Virtual insanity
Jamiroquai San Francisco Concert Review – by JGrizz
I'll start with the concert itself, then I will talk about our trip from LA to SF.
Part 1: Concert
We were close to the front of the line, about 30 people deep, when they opened the doors, there was an immediate rush to get through the security check and they had made everyone split into two groups, which threw everybody off. By the time we got into the venue, we had to use the restrooms, get drinks, food, and get in line to buy something from the merch booth, which already had a huge line. I waited about 10 minutes and was able to buy a T-shirt, keychain, and the Automaton Tour jacket, which was the last one.
We headed toward the stage now, so we could get as close as possible, there was already about 15-20 people deep on the right side of the stage. It started to get very rowdy and pushy at this point. Where we were, the vibe around the crowd was not very good. My wife and I had to stand our ground and tell people to stop trying to push their way through, there was a younger couple that was drunk, that kept leaning into us and we had to tell the girl to stop, then my wife and her got into a stare down, and they almost got into a fight, then another group pushed their way through and took her boyfriend's spot, and the drunk girl tried to fight them as well, it was pretty crazy at this point. The DJ's was spinning, getting the crowd pumped up, telling everyone that the band was going to start soon. The crowd was getting really pumped by now.
After an hour of the DJ Funklor, which played some really deep funky tunes, lots of old school stuff, I enjoyed his choice of songs, I thought it was really good, and appropriate for the SF crowd.
Finally, after waiting in line outside, and waiting in front of the stage for over 4 hours! The band played the first note, Starting with 'Shake It On' ---the crowd went crazy! 8500 people screaming!
Jay and the band were in top form! Lots of energy and massive sound. The sound was very clear and very loud. There was a little bit of high end noise from the mix, and It made the vocals a little fuzzy in my opinion, but overall the sound was great. Everyone took their phones out and started taking pictures, and it was pretty hard to see anything. Jay seemed very excited to play for everyone, moving around and jumping around a lot. They segwayed into 'Little L' as they have done many times on this tour, the crowd went wild, they absolutely loved 'Little L'. Everyone singing along, pretty standard way they performed this track, but the energy just blew the roof off the place!
They jumped into 'The Kids', with Jay starting it off by saying "ok now we're going to play something from way back", Great, solid sounding track, really got the crowd moving, they did not however go into "Dr Buzz" but having just performed it with Snoop at Coachella, it wasn't suprising, although it would have been nice to hear it performed (for me).
Ok, now Jay had to mention how the place smelled strongly like Marijuana, then someone threw an entire bag of weed for him on stage. He picked it up and said "wow that's a nice gesture, oh ok, thanks, well, I might give me a few problems on the plane back to London with me" "Only Snoop could get through with that" LOL haha, then appropriately, they started 'Space Cowboy'.It was a great rendition, very smooth, short and sweet.
Next they played 'Alright' with Matt starting out playing lush chords in the intro, pretty standard 'Alright', lots of moving about, Jay directing the band to stretch out and jam a bit more than usual, a nice keyboard jam in the middle.They jammed out this tune pretty long, then they brought it to a quick stop.
Jay says "now we are going to play something from the new album" " here we go, Cloud 9" Started off with the new guitar riff, and by now the entire place is filled to a packed house. Every standing spot taken, every seat full, completely sold out.
The crowd seemed to enjoy 'Cloud 9", people were groovin' and movin' to the song, singing along. The background singers, "the Cosmic Babes" doing a great job helping Jay with the vocals on this one.
Next they did 'Main Vein' a track from 'A Funk Odyssey' that we didn't ever get to hear live, from that tour. It was great, they played it awesome and it was really great to hear this track live for the first time.
'Use the Force' was next, fantastic, super excited to hear a track live off of 'Travelling Without Moving'
Now, they had a short false start of 'Hey Floyd' but then they paused and restarted it strong, in my opinion this was the 'highlight' of this show. They sounded great, and they stretched out the reggae section, and jammed it out for a long time. It was pretty amazing to hear this live. Very Surreal.
At this point we were up in the stands watching from the right side of the stage all the way at the top, still a great view of the stage and great sound, less crowded and we were able to relax and enjoy the show.
Now when they started 'Cosmic Girl' we had to get up out of our seats and dance, it was really pumpin' and everyone around us were dancing out of the seats and having a blast! The new middle section of this tune sounded great and the lights were moving and going to the music, "that's what you like" "Baby Your So Cosmic" absolutely stunning performance. Matt's keyboards playing those analog synth sounds, it was through the roof!
Next, "Don't Give Hate a Chance" , not one of my favorites but still was amazing, the crowd really got into this one, dancing and singing along.
Now they played 'Runaway' and Jay really started getting the crowd going with his dance moves, He had a lot of energy jumping up and down.
'Travelling Without Moving' came after Runaway and it was terrific, Jay talks a bit before, about the video being filmed in San Francisco a "chair with a lamppost" if you were there "this one's for you"
I think I spaced out during this track, because I don't remember it at all, we were so exhausted by the end of the show (lol)
Next up "Seven Days in Sunny June" everyone loved it, singing the chorus together, it was a real treat that they played this for us.
Then came 'Canned Heat' which was awesome, so much energy and great playing by the band, towards the end of the song they jammed out a bit, starting with Matt on the keyboards, then Jay going around to Paul and Rob, then to Sola for a percussion solo, this seemed to be improvised and on the spot. Sometime earlier one of the background singers left the stage, as she was sick of something. But the band played on without a hitch…
They segwayed right into 'Love Foolosophy' and crowd went wild, "she shimmers like a California Sunset" Jay emphasized to the left side of the crowd and they sung with him and cheered loud and proud!
Now by this time it was the end and we left before the encore, (to make sure we had a ride back to our Airbnb) and we were so tired and exhausted we just couldn't stay any longer..
They performed 'Virtual Insanity' to close out one of the most memorable west coast Jamiroquai concerts 13 years in the making!
Thanks for reading,
~J.Grizz
Part 2: Travelling to San Francisco from Los Angeles
We started off at 2am Tuesday morning in the car to get out of LA before the heavy morning commute traffic started, We headed up the 5 freeway and got to the 580 near San Jose to cross over the Oakland bridge about 10am, When we started to get close to the bridge and the toll booths there was a heavy amount of traffic, that took us well over an hour just to get through. Then we got into downtown SF, and drove around a bit towards our Airbnb. When had no idea that it was up 3 almost vertical hills to get there! We waited around a small park in front until our room opened up. The host let us in early, (thank God!) and we went inside and rested until it was time to head down to the concert. We took an Uber that dropped us off near the Auditorium, by this time it was about 3pm. Now we had already seen lots of fans lining up in front, Peter May, Jessica, and Darlene, so we wanted to get in line asap. We stopped and had a couple of Bloody Mary's and tacos at The Grove, a little pub across from the Auditorium. We then, walked over to the concert, but got lost somehow and walked all around before making it in line at about 4pm. I stopped by and had to say hi to Peter may and his girlfriend who just came from Coachella and had been in line already from early in the morning! I said hello to Darshan from Seattle, and Jessica from Chicago (front row freaks!) While we were waiting for the gates to open, we met a family with their two young sons' that were also from the LA area (Fontana) not far from where we live. They were super excited and their kids were excited to see the band. We also met an application engineer that works at You Tube, who lives in SF, and another guy from nearby who also was a deadhead, and we got to talking about all the shows we have seen. We met a gal who was with her husband and kid all the way from Texas!
So after everyone had been waiting in line since early in the morning, they opened the gates at 7pm and made everyone split into 2 sections of security checks so some of the people back in line got in before the very first people, which was kind of messed up.
So anyway, we travelled back home on the 101 fwy, (much more scenic and nicer drive than the 5. But it took us 8 hrs to get home, once we got into the LA area it was about 3pm during rush hour and it was bumper to bumper traffic for 2 hours (Pasadena to Claremont) We took side roads and made it home by 5:15 pm, our doggies greeted us when we got home, they were so glad to see us!
It was a great show, a for the most part, a fun trip, my only regret is that I didn't get to take hardly any pictures, or video, as my phone was low on battery.
~Cheers